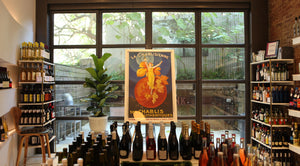 Store Hours
492 Flatbush Avenue
Brooklyn, NY 11225
Mon, Tues, Weds : 12pm-8pm
Thurs, Fri, Sat : 12pm-9pm
Sunday : 12pm-8pm
Contact Us
Local Delivery & Pickup
For our local customers in and around Prospect Lefferts Gardens, you can download our convenient app for curbside pick-up and free delivery!

Find our shipping rates here.
Download our local shopping app free from the Apple App Store or Google Play.
Have an Account? 
Login To Account
Local delivery (neighborhood) 
We offer free local delivery to addresses in the immediate local area on orders over $20. Orders under $20 will be charged $5 for delivery.
(Zip codes: 11225, 11226)
Local delivery (Surrounding suburbs) 
We offer free local delivery to customers in the surrounding zip codes on orders over $50. Orders under $50 will be charged $10 for delivery.
(Zip codes: 11211,11237,11201, 11206,11233,11217,11225,11231,11212,11220, 11226, 11210,11203,11236,11219,11234,11230,11204,11214,11215)
Further Brooklyn & Manhattan
Orders within Manhattan and Brooklyn are calculated based on your destination address. (Please note we are temporarily unable to ship outside our local area with same day service)
National Delivery
We ship to the following states with Fedex: Alaska, Connecticut, Washington DC, Florida, Lousiana, Nebraska, Nevada, New Hampshire, New York, North Dakota, Oregon, Virginia, West Virginia, Wyoming. Rates are calculated based on the weight of your order and destination address. 
Delivery hours are:
Monday-Thursday: 3pm-7:30pm
Friday: 3pm-8:30pm
Saturday: 1pm-8:30pm
Sunday: 1pm-7:30pm  
Last orders are taken at 7 pm for local delivery. If we cannot get to your order we will deliver it to you the next available delivery day. Thank you for your patience and flexibility at this time!